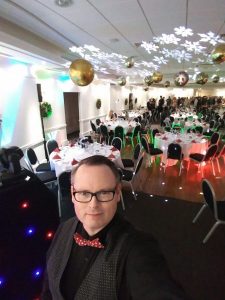 Birthday: November 7th
Favourite Music: Soul, Disco, 70's & 80's. Classical, Cheesy pop, Current Top 40
Favourite things: My family, peace and quiet, the seaside, Sunrises!
Dislikes: Sprouts
Andy spent his early life living next to the sea on the Kent, U.K. coast where he enjoyed school summer holidays on the beach and the sea. It is little wonder then that with his love of music, he was drawn to the world of off-shore radio where eventually he was able to combine both worlds. In early 1985 Andy went to work with The Voice of Peace Organisation as a DJ aboard the MV Peace ship off the Eastern Mediterranean coast and like the other DJ's there, he was tasked with presenting many different shows to keep the station 'on-air'.
Eventually, Andy left and returned to the UK where he continued with hospital radio and started up his own mobile disco business around the South-East area of England and also worked with his father in the family business. In 1991 Andy moved away from the coastal area to change career path and with that decision, he eventually moved to Leicestershire.
It wasn't until 2010 when Andy reconnected with the Voice of Peace that he started broadcasting again. He says, 'It was quite by accident that I found the station again. I was reminiscing and looking for some pictures when I heard the station was back on the air. I joined the team later the same year and broadcast with the station for three years until July 2013. I'm still in touch with the team and am blessed to be able to call them my friends".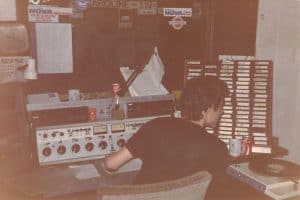 In early 2013 Andy joined the team at Kiss FM – Portugal where he presented a Saturday afternoon chart countdown show for the station, which was heard across Portugal on the FM frequency and also online.
Keeping with his roots in the entertainment business, Andy now continues with his mobile disco business, AJC Entertainments, specialising in weddings, parties and corporate events in and around the Leicestershire & Midlands area of the UK.
Andy says he enjoys almost all types of music but as he was growing up in the late '70s and '80s, the memories of that time make that genre his personal choice, if having to choose.
"That said, with three teenage daughters I have no choice but to know what's 'buzzing' in the charts" 🙂